Temple of Tantra

Sexual Tantra; is bringing Spirit
into your sexuality,
experiencing 'Heaven' on Earth!
"[the session]... was probably the most valuable couple of hours
I've ever lived..."
J.B., CO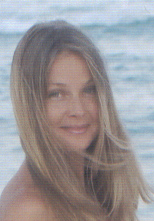 A. Golden Fire, named a Sexual "Shaman", creator of BlissBreath and Sacred Fire Initiator
has been featured in various magazines, Channel 2 (WB2), speaker and teacher for Sacred Sexuality teachers, the documentary movie Magdalene Unveiled and latest being the Femme-a-Femme book and DVD.


Her Temple of Tantra has now its home in Boulder (and Denver) Colorado. Born and raised in Scandinavia, one of the most sexually liberated places in the world, Tantra or sacred sexuality was a very natural path to her. A. Golden Fire teaches the wisdoms of how to feel more natural and have more delight with ones sexuality and intimacy, while at the same time deepening one's relationship with ones Soul/Spirit through her multi dimensional transcendental healings or just learning more of the grounded science of ones bodies, breath and our three brains...


Do you think it is your birthright to experience ecstasy?
Have you always thought that you could experience something more with your sex life and with your partner?
Do trauma and or addiction stand in your way of fulfilling
sexual experiences?
Have you wondered if you can go deeply spiritually while being a sexual being?
Do you feel guilty of your sexual feelings and fantasies?
I would love to BOOK an appointment

"But now abide faith, hope, love, these three; but the greatest of these
is love."
(1st Corinthians 13:13)

What is a Sacred Sexuality session like with me?
Click here to see me Live (and others) doing sessions and speaking of Sacred Sex.
It is very much tailored to your needs. May it be a pure Tantric teaching or a transcendental experience, or a combination. I integrate synergistically ancient and neo proven sexual Red and White Tantra with powerful breath work, based much of the principals of NLP (neuro linguistic programming), "Shamanic" healing, Gestalt (psycho drama) Pelvic release/Heart integration bodywork and my own Healing techniques that I have developed through 17 years in the field. I come from a healing lineage, and was born with natural intuitive healing abilities. I also see the importance of measured brain waves and Heart using HeartMath's EmWave, for a more in depth awareness of where deeper healings occurs with each person.
I also practice Agua Alma (similar toWatsu), medical hypnotherapy and wellness and spirit coaching.
I draw from all traditions of sacred sexuality (Tantra, Taoism, Shamanic Native American and some of David Deida's work.).
It is up to you how far you want to go! These are some of the things you can learn/experience/heal:
Learn the BlissBreath that I founded, a most powerful and scientific (an instrument measure results)
Men: Keep your energy with your orgasms, - don't loose it (you don't get tired, but often energized)
Generate and conserve transformative sexual energy
Intimacy communications (verbal and non verbal)

Circulate sexual energy through your body to heal and rejuvenate

Build up energy for longer, more fulfilling full body orgasms
Direct orgasmic energy to the brain to awaken dormant brain cells and expand your senses
Deepen your love relationship. Rekindle the flames, and satisfy your partner
Attune yourself with cosmos, recognize your Empowered Self
Explore various 'hidden' aspects of consciousness
Achieve full control of your sexual energy
Learn about the power of Kundalini/Tantra massage
Create stronger intention in your life
Learn the many techniques of Tantra massage
Transcend and release traumas and emotional scars

For more about the meaning of Tantra sex, click here

To BOOK click here

My main place is in downtown in Boulder, Colorado. I also have an office downtown Denver (near 8th Ave and Santa Fe). Lakewood for pool sessions only.