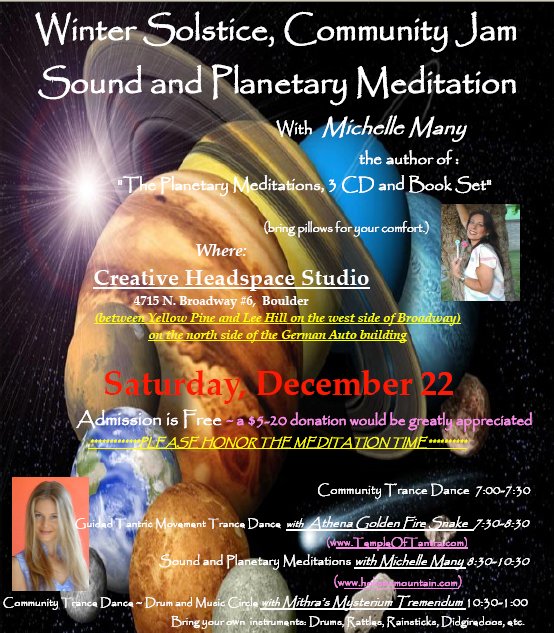 More details:
Winter Solstice
Sound Celebration

Program details:

Free form Trance Dance
7pm
~
Guided Tantric TranceDance
See how your body and heart can become more alive. Enliving a gentle Kundalini healing energy in your spine. Connecting your physical body with your spiritual body.
Cleanse and empower your chakras!
with
A. Fire Golden Snake
7:30 – 8:30pm
-Pls. honor the time frame-
~
Sound and Planetary Meditations
with
Michelle Many
8:30-10:30pm
bring pillows for comfort

"The Planetary Meditations, 3 CD and Book Set"
will be performing her meditations live and in person
Community Trance Dance Jam and
Drum and Music Circle
10:30pm – 1am+
Pls. honor the times for each segment, for optimal transformational experience for everyone
held at
Creative Headspace
(between Yellow Pine and Lee Hill on the west side)
South of the tire store.
German Auto building (set in from the street!) on the right/north side of building

Admission is FREE, or $5-20 donation at the door appreciated
(BYOB)
Take a healing vacation to the planet's of our solar system

and let the cosmic frequencies fill your being. Allow Michelle's soothing voice and lush imagery to heal you at the subconscious level

through hypnotic suggestions for positive change.

Groove to the smooth jazz that is filled with Planetary Tuning forks,

Tibetan Singing Bowls and Temple Bells and

let your body and soul be healed by the music of the spheres.

Book signing to follow.

Bring your own sound instruments

Drums, Rattles, Rainsticks, Digiredoos, etc.

for a cool cosmic jam following the meditations and book signing.

Musicians would please contact Mitch beforehand to rehearse on the 21st the night before if possible.
For more information contact
Mitch Feinstein at:
303-246-888
or Michelle Many at:
970-949-7458
Communication In Touch Playshop: How To Deepen Connection -

Dec 20, 6:30-9:30pm. In Boulder city, place TBA.

Have you ever had a massage that seemed to miss the mark?

You may have a great partner or massage therapist, but somehow something gets missed.

Or maybe you are on the table wishing the other person would work on a certain spot but it seems too hard to explain so you stay silent.

Or maybe you have an untrained partner who tries their best but can't seem to get it right.

We can help! The Communication In Touch Playshop is all about having what you want. Unlike many massage classes, the focus is on how the receiver can communicate clearly and with minimum effort so they are touched exactly the way they want.

We are A. Golden Fire and Daka Rose and are both experienced bodyworkers and tantra teachers. In this 3 hour evening, we will take people through an exploration of the varieties of touch, but more importantly we will teach several different methods of feedback, from linear verbal to holographic energetics. People will come away with new responses that will allow them to guide their partner easily and naturally to what they want.

You are welcome to come alone and partner you up (though let us know beforehand.) And we will create healthy boundaries. This is not a sexually explicit workshop. You can remain fully clothed as well.

$20 Per individual prepaid ($30 only per pair)

$25 Per individual at the door ($40 per pair)

Space is limited. Rsvp soon!

Any sexual orientation is welcome.

A. Golden Fire Snake

W

as born and raised in

Norway

, a quite sexually liberated country. Sexual Tantra, or sacred sexuality, was a very natural path for her, and it became delightful for her to teach how to feel more natural, open and have more delight with their sexuality and their bodies. She has been involved in holistic healing since 1987. And studided the white Tantric Path for 10 years and the Red (sexual) for 9 years.
Her background is in NLP Wellness Coaching, Embodywork and Agua Alma Water Works. And she is an avid student of the Quodoshka (shamanic sacred sexulity) as well as the tao sexual practices. She specializes working with women and couples, but also love to work with men.
She is forming a Sacred Sexual Touch School with Daka Rose.


Daka Rose

M

ead was originally trained to teach in the Ipsalu school of Tantra. He spent more than 20 years as a massage therapist using Neuromuscular Therapy, Acupressure, Rolfing, Polarity and Triggerpoint, before he discovered Tantra. Subsequently he supplemented his skills with the deep pelvic work of Jack Painter and sexual healing work taught by Charles and Caroline Muir. He has extensive understanding of both physical anatomy and the energetic body as well as male/female dynamics. He teaches Qigong and brings that energy to his bodywork.

He is forming a Sacred Sexual Touch School with A Golden Fire.
720 436 5133
RSVP to either one of us.
PayPal and credit cards accepted.

PS. You need a gift idea?
~ Give your loved one a Tantric Session for Xmas ~